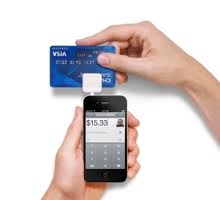 News that Square is processing $10 billion in payments annually has ramifications for small to medium sized businesses everywhere.
Visitors to this blog know I'm hardly in the business of hype. I'm not suggesting that every SMB go all in on mobile immediately. What I am saying is that the $10 billion shows that there is enough activity to push to the forefront the need to determine whether any business has customers that may choose to go elsewhere if the option is not offered.
To review, Square offers a card reader that turns a mobile phones into payment devices. It charges businesses $2.75 per transaction and splits the fees with Visa, MasterCard, and banks.
Square isn't the only game in town. As Reuters reported this week, in recent months, eBay Inc's PayPal and Intuit have both released their own card readers, while retail giants including Wal-Mart and Target have announced a joint venture to develop their own mobile payment offering. According to Reuters, Visa and AT&T also have projects in the works as does Google, which is focusing on its Google Wallet product.
Beyond current consumer expectations from small to medium sized businesses, the urgency to figure out a mobile payment solution is heightened with the news that Square and Starbucks teamed up to offer customers Square's mobile payment application. The companies are giving Starbucks patrons in 7,000 U.S. stores the ability to use the mobile payment application, Square Wallet, a way to quickly and seamlessly pay for lattes, cappuccinos and more.
Customers simply download Square Wallet to their iOS or Android device to set up an account. Square Wallet is linked to their debit or credit card, so there is no need to reload a balance. Customers tap "pay here" and scan their QR code – similar to the customer experience on the existing Starbucks mobile payment applications. Their digital receipt appears instantly.
What does Starbucks have to do with small to medium sized businesses in a category other than coffee? With more consumer experiences will come more pressure on SMB to serve the shopper just as efficiently.
--
This post was written as part of the IBM for Midsize Business http://goo.gl/S6P7m program, which provides midsize businesses with the tools, expertise and solutions they need to become engines of a smarter planet.