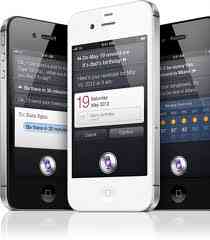 I appreciate the reception to my first Notes on A Mobilized Marketer column. We'll get on a regular cadence, likely twice a week. In the meantime, some new notes:
First up are more thoughts on the new iPad release:
Some expected Siri to be on the new device. I wasn't one of them. In my opinion, the exclusion is all about the 50 million additional iPads that Apple is projected to sell this year. The Siri voice recognition system was overwhelmed by demand when the iPhone 4S was introduced. My hunch is the backend can't handle 50 million more asking where is the nearest place to buy a taco.
Fanboys (and fangirls) were more than pleased to write about iPad pre-orders selling out for launch-day delivery. Isn't that just half the story? How many devices have been ordered? The sellout could have as much to do with a lack of supply as with demand.
Apple spent all it's iPad naming time coming up with resolutionary. Fail. Just like phablet for the tablet/smartphone hybrid.
Yes, there were iPad rumors that missed -- tactile functionality and the name to mention just two. Are we taking names of those who passed along nonsense?
A faster iPad run through carrier networks means consumers will need to spend more with the mobile operators. The appetite for that is limited versus just using Wi-Fi.
China got to one billlion mobile subscribers with "only" 15 million iPhone users.
Of course, there was more than Apple news in the last several days:
The headlines around the comScore report centered on the milestone of 100 million smartphones in the United States. What was more newsy to me? Nearly 50 percent of mobile subscribers now use the mobile Web and the same number view apps. Plus, more than one third access social networks or blogs on mobile. And, 75 percent of all U.S. mobile subscribers are now texting, up 3 points. So much for the death of SMS.
Approximately 75 percent in a Sports Illustrated survey say they want to access to both the print and tablet edition. I'm one of those – having SI in my hands is a habit that is hard to break.
Are you waiting for convergence? It's here – Google's mobile homepage now shows recent searches from your computer.
In the "keep the hype out of mobile category", no, contrary to the lead in one story, Square doesn't expect its new iPad app to "replace cash registers for small businesses & merchants".