One of the more memorable and decorated campaigns I worked on in 12 years in agencies was the 3:21 Wakeup Call for Tully's developed by WongDoody.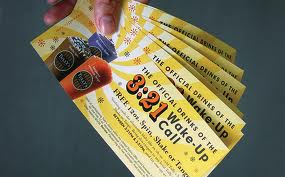 The challenge for Tully's was to establish awareness of its blended drinks, especially difficult with the attention given to Starbucks' Frappuccino.
WongDoody devised a mid-afternoon barrage of outdoor media, high school bands playing Reveille in the streets (and near Starbucks and Tully's locations) and a sampling. http://www.wdcw.com/work/project/47/tullys_coffee_321_wakeup_call/
Beyond the noise it created, Tully's blended drink sales increased by 24 percent and unit volume (year over year) increased by 77 percent during the first four weeks of the promotion that ultimately won an Effie for advertising effectiveness.
I thought of the program this week when Mobile Marketer asked me about Starbucks using SMS reminders to push its Frappuccino Happy Hour. Starbucks sent out an email blast to its My Starbucks Rewards consumers, asking them if they would like reminders about the promotion.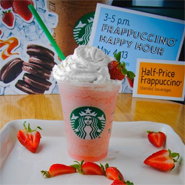 As discussed in earlier posts, many stop what they are doing when a text message arrives with a bing or ping.
"(The Starbucks program) plays on the effectiveness of a permission-based SMS that gives a consumer what he or she wants." I told Mobile Marketer. "Email doesn't provide such immediacy, so employing SMS in this case is smart."