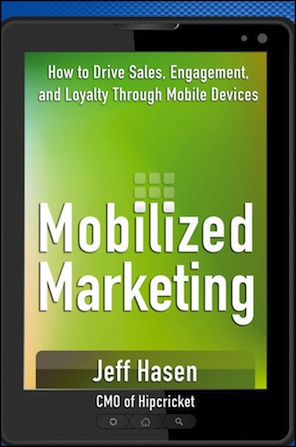 The first reviews are in for Mobilized Marketing. I'm humbled and grateful.
Thom Kennon
SVP, Director of Strategy
Y&R
"I've been lucky enough to have been doing mobile for about as long as it's been a viable marketing channel and touchpoint. I was thrilled when I found out Jeff was writing this book since I knew full well the story hadn't yet been told. And I also believed there was no one better suited and positioned to tell it than Hasen, looking back and forward from his prime seat at the head of the table at Hipcricket.
"Jeff's unique role in our industry's founding origin stories afford him superb and actionable insights about where we're heading. Jeff gets that mobile is not one thing – it isn't just 'little digital'. It isn't just apps or messaging. And it certainly isn't just about media. Jeff gets the big picture -- that what's really going on is a new era of brand marketing and human behaviors that is best summed up by what some of us call 'mobilityness'. Jeff gets that mobilityness matters and this book is about the how and the why. It is a tale is both instructive and inspirational as it uncovers the key lessons learned over the past 10 years of early mobile and point us towards the opportunities which lie ahead for the future of all marketing, with mobile as its beating heart."
Michael Becker
Managing Director, North America
Mobile Marketing Association
"Jeff is a superb storyteller and in this book he takes you through the story of mobile and its place within the marketing mix. At every step along the way, he shares key lessons and insights that will help you ask the right questions and know how to get the right answer. Jeff will prepare you to embrace mobile in a way that will help you deliver value to your customers, your employer and your career."
Miles Orkin
Former National Director, Web and Mobile
American Cancer Society
"Mobile marketing is about giving your customer the right message via the right channel at the right time. When it works well, nothing is more intimate and effective. Jeff knows what works. And the stories from mobile marketing leaders he features in this book add detail and dimension to Jeff's compelling strategic insights. It's a fast, informative, entertaining read, and it will set you up with a clear point of view on the latest mobile thinking.
"If you want your audience to pick up their phones and engage with your brand, you need to pick up this book!"