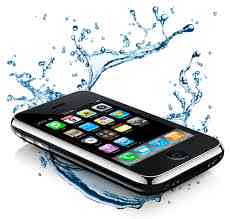 You know how insurance works -- I spent $99 for iPhone water protection. Now it's as dry as some's humor.
A question for email marketers - why do some believe that there is more value opting in people by default than asking permission to interact? It is annoying.
Do you think mobile isn't wacky? An app with 100 million users connects those shaking their phones with others doing the same.
If the report is accurate, RIM's former CEO, cast as slow to move, left because his radical change ideas were rejected. Talk about irony.
According to eMarketer, one-third of the U.S. population will use social networking and video on mobile devices by 2016.
Did you catch the interesting Fast Company piece on the "dark side of smartphone NFC technology?" Will there be too much personal information on phones?
I'm heading to Tuesday's sold out Shopper Summit co-presentation -Using Mobile to Engage Customers Along Path to Purchase & Beyond.
In the "yeah, these were beginning to get old" department, Google Goggles have been updated with changes to continuous scanning.
Via one customer at a time, Verizon's new upgrade fee could add $1 billion to its annual EBITDA.
Despite being more connected than ever, new research in The Atlantic suggests that we couldn't be more isolated.
Baseball's At Bat mobile app had 2.2 million subs in 2011, 25 percent year over year growth and $200 million in revenue. That's a home run.
Apple's "resolutionary" description of the new iPad would fit better tied to January promises we'll break by February.
Strike the "PCs are going away" headlines - shipments were up in the first quarter
Technology as an enabler: 35 percent of teens admit to having used their mobile devices to cheat on a test, according to a survey.
It has been two days since I've seen a story hyping the mobile wallet. I'm betting that the streak ends very soon.
A TV spot saying "Do March Madness right" on LG mobile aired two weeks after tourney ended. What's the ROI on that one?
I'm confirmed to talk about my Mobilized Marketing book June 15 in San Diego at that town's Interactive Day. I'm stoked – it is always a great event.