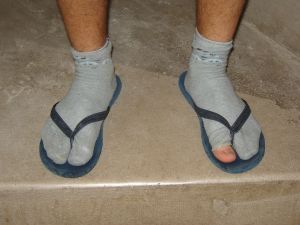 Beyond anti-wrinkle cream and eyelash enhancements, I'm staying young through reverse mentoring. A 29-year-old is co-architect in many of my new media efforts. Plus, last week, I learned lots about social from a 25-year-old who is as old as many of my socks.
My brother followed this course recently when he received advice on setting up his wireless router from our 12-year-old nephew. My bet is my brother was wearing 12-year-old socks that day.
I received texts three straight days from the Obama campaign. Yes, I opted in, but the frequency is way too much, especially this far from Election Day.
Next year they should do Day of Unplugging on April Fool's Day. Then I'm in.
The NPR April Fool's headline said Tweets To Shrink To 133 Characters. That's nothing to joke about. Our full voices will be heard.
According to several studies, more than 70 percent of mobile users say they want a deal. Yet LivingSocial is away moving from offers to push convenience in the form of takeout and delivery. I'll take 25 percent off in exchange for a relatively short wait. And I'm far from the only one.
Is there an app to get my wife to go with me to new Three Stooges movie? I hear that there's Oscar buzz around this one.
Groupon restated its earnings after seeing a spike in holiday returns. I contributed by giving back two of the three flying trapeze lessons my "friends" thought I would enjoy.
Some (not me) say the best days for text messaging are over. A posted column said that SMS is a "new global phenomenon". It is at neither extreme.
Two thirds of mobile devices purchased in last three months were smartphones. Has your marketing shifted similarly?
American Express says that mobile payments are 4-6 years from a tipping point. The contrast to the hype around the concept is striking – and accurate.
AT&T says its Nokia Lumia 900 launch will be bigger than an iPhone introduction. It may be in marketing dollars spent, but certainly won't be in excitement generated.