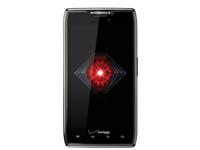 An ad for the Motorola Droid RAZR Maxx says it has the longest talk time of any 4G phone. Does talk time close the sale for you? I didn't think so.
A story says that a cellphone that sees through walls is closer to reality. Marketers: ignore. It's a shiny object that won't move your business.
Verizon's CFO says the carrier's data-sharing plan will come out mid-summer this year. You know that he has run the numbers.
Larry Page says that Android isn't critical and that it's a delivery vehicle for Google services. Don't believe me? You can Google it.
There is an AP style change -- you can now start a sentence with "hopefully". My wish is that the wire service says that you don't have to start every tweet with the words rumor and Apple.
During the Shopper Marketing Summit this week, I listened to a "mobile is an addiction like drugs" talk by longtime industry veteran Patrick Moorhead. Patrick, rather than an addiction, could it be that mobile brings the value to justify the cost?
Talking to marketers at the show, mobile is for selling more product and driving engagement and loyalty. Convince them and they are in.
My words to Digiday on the importance of digging deeper than just saying that you have to do mobile: "For marketers, it is essential to consider day part and device type. Plus, you should pick a newspaper partner that optimizes for the device and updates content throughout the day. No one wants to read yesterday's news on a tablet at the dinner table. As for advertising, breakfast sandwiches are irrelevant to all but a few except in the morning. It's about the right ad at the right time on the right device."
An eMarketer forecast says that 15.8 million U.S. consumers will book travel via a smartphone this year. That is just 5 percent of the overall subscriber base, but it is significant.
Pew reports that 38 percent of Blacks and Hispanics use mobile as the primary avenue to Web. Marketers, this stat matters more than most.